MessyGirls (Aleisha Gets Messy - HD 720p) [mp4 / 422 MB]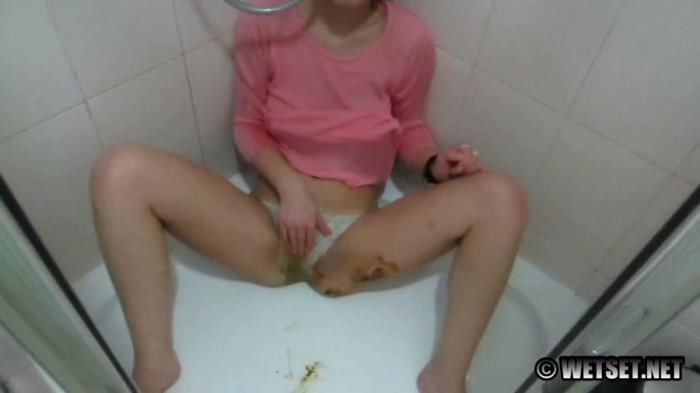 Actress: MessyGirls
Genre: Panty Scat, Panty, Panties, Solo, Amateur
Duration: 00:23:07
Quality: HD 720p
Resolution: MPEG-4 Video 1280x720 29.970 FPS 2553 kb/s
Format: mp4
Size: 422 MB
This movie is true "girl next door" panty pooping. Right from the start Aleisha is looking young and very sexy, as she sleeps on her bed with her butt in a tight pair of jeans. But then she's woken by an urgent phone call, and has to get up, shower and get ready to go in five minutes, even though she explains it's impossible. She undresses and has a quick shower, but when she gets back to the bedroom to change, she thinks she can feel the need to poop coming on.
Nevertheless she continues to get dressed. Watching her get dressed is very sexy, like a reverse strip tease! It shows just how young and sexy Aleisha really is – those hard nipples on her pert breasts poking through the fabric of her pink top. Then she decides though that she does indeed really need to poop, and heads back to the bathroom. But from her other movie "Alisha's Constipation", we already know that Aleisha has always had a bit of a problem with the toilet from when she was young. She decides instead that it would be quicker if she just did it in her panties instead!
Stepping into the shower cubicle she bends over and pushes, easily filling her panties with a lovely firm load of poop, nestled snugly between her butt cheeks, and making a nice bulge in the back of her lacy white panties. After checking out what she's done, she pulls her panties back up and pushes again. A little bit more poop comes out, but also a quick spurt of pee which runs between her legs and off the poop bulge. Then she takes her panties off, and we watch more poop sliding out of her butt, as well as a stream of pee running right down the poop and off the tip!
Oh dear! Aleisha is supposed to be somewhere in a hurry and now she pooped her panties. She should have realized what that would mean – a tingling pussy and an insatiable need to masturbate! She can't help it – if she poops herself then she has to cum, there's no other way! She puts her dirty panties back on, and even fills them up again with the poop that has escaped, and starts to rub herself and get messy. She fingers her clit and mashes the poop in her panties against her butt. Check out the part where she pushes her butt up and down against the shower screen, smearing poop all over it!
Now she is seriously horny and there's no turning back. She crouches in the shower cubicle, holding the hem of her pink top in her mouth to expose her perfect breasts, and then just goes for it – fingers feverishly working their magic between her spread legs. The close ups reveal just how much of a total mess she's in. But coming once is not enough – she wants more! (Girls are lucky that way!)
She stands up with her butt to the camera – what a sight! The back of her panties look absolutely wonderful. Then she sits down in the corner with her legs apart and her butt on the poopy mess, and goes for it again, reaching a more intense orgasm than the first. Then of course she has to clean – I don't think she's going to make her appointment!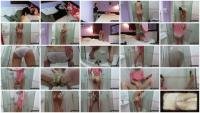 Download Scat Porn MessyGirls - Aleisha Gets Messy from VipFile